Igniteble, in collaboration with Interface Systems, has created an app for the Toy Box store that is featured in the Cisco booth at the
NRF Big Show in New York
. The app is preinstalled on a dozen iPhones and iPad Pros and is part of the integrated technology journey for booth visitors. The app is intended to accomplish the following key objectives:
Shopper Analytics
Igniteble's multi-tenant business intelligence and campaign platform will make assessments on various zoned area visit counts and engagement time via strategically placed Bluetooth Low Energy (BLE) sensors, as well as BLE equipped Cisco Access Points (AP). The integration of proximity-based location awareness of a store visitor creates a wealth of actionable data points.
Shopping Survey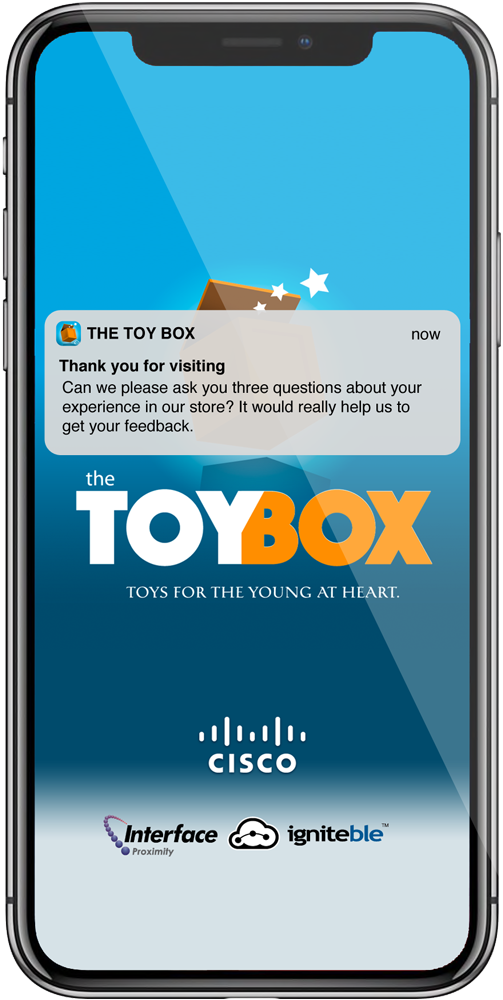 The same app that is used for Shopper Analytics will also be used for the Shopping Survey. At the appropriate time when the shopper leaves the Toy Box store, the app will receive a push notification to the lock screen with a request to participate in a short survey. The opportunity to execute timely, distinct location and shopper behavior specific surveys is vastly more effective and informative than, for instance, the typical periodic survey via an email list.
Demographic Insights
In order to also demonstrate the opportunity of business intelligence without the dependency on a consumer app, a small camera has been mounted underneath one of the large TV screens in the Cisco booth. The control unit of the camera sensor analyzes pixels and pushes demographic data of the individual in front of the sensor without storing any videos or photos. The anonymous data is stored and processed in Igniteble's multi-tenant business intelligence and campaign platform and can be analyzed via proprietary dashboards for: age range, gender and engagement time.